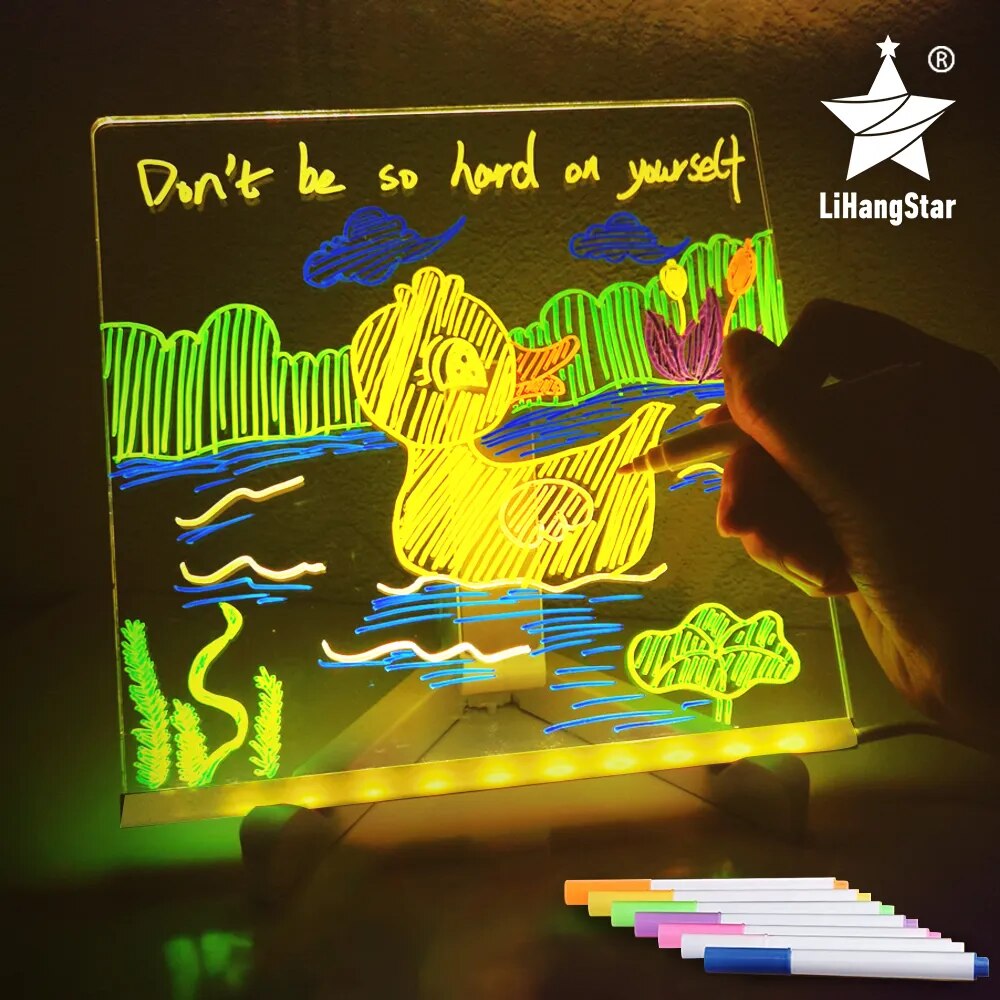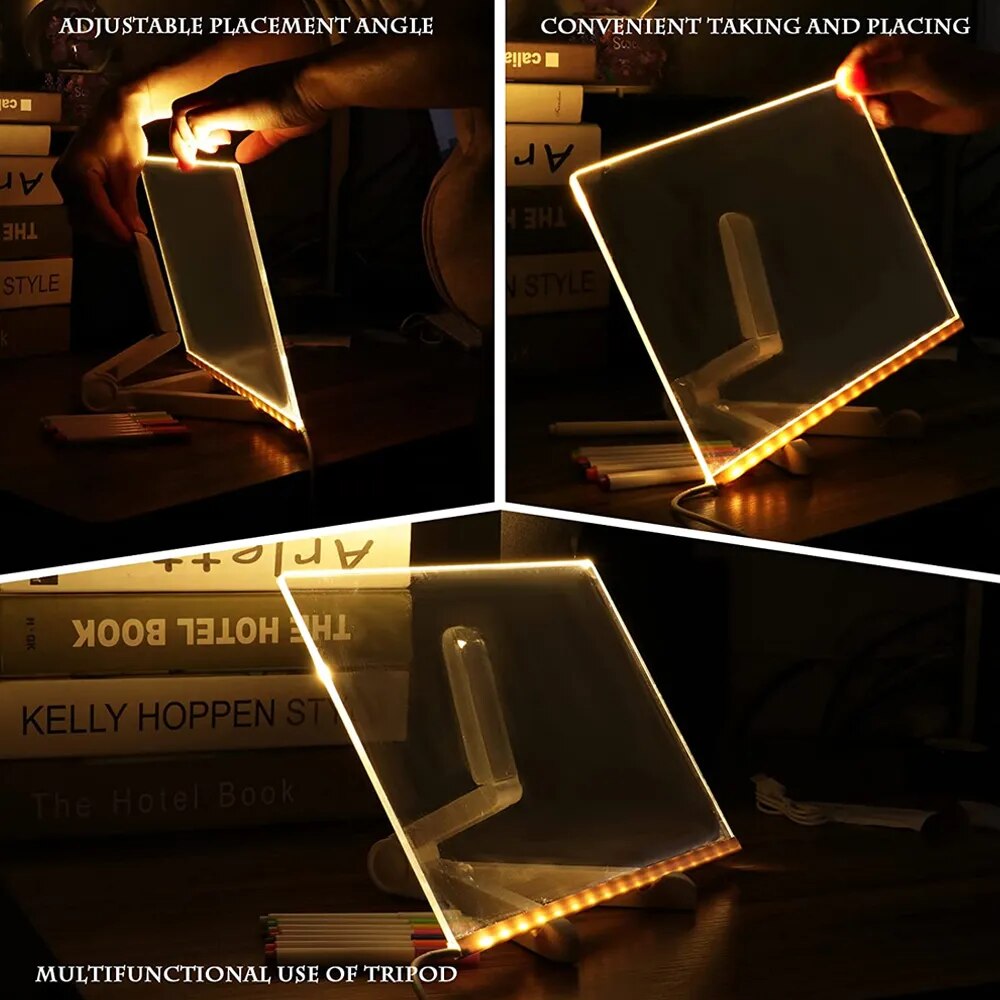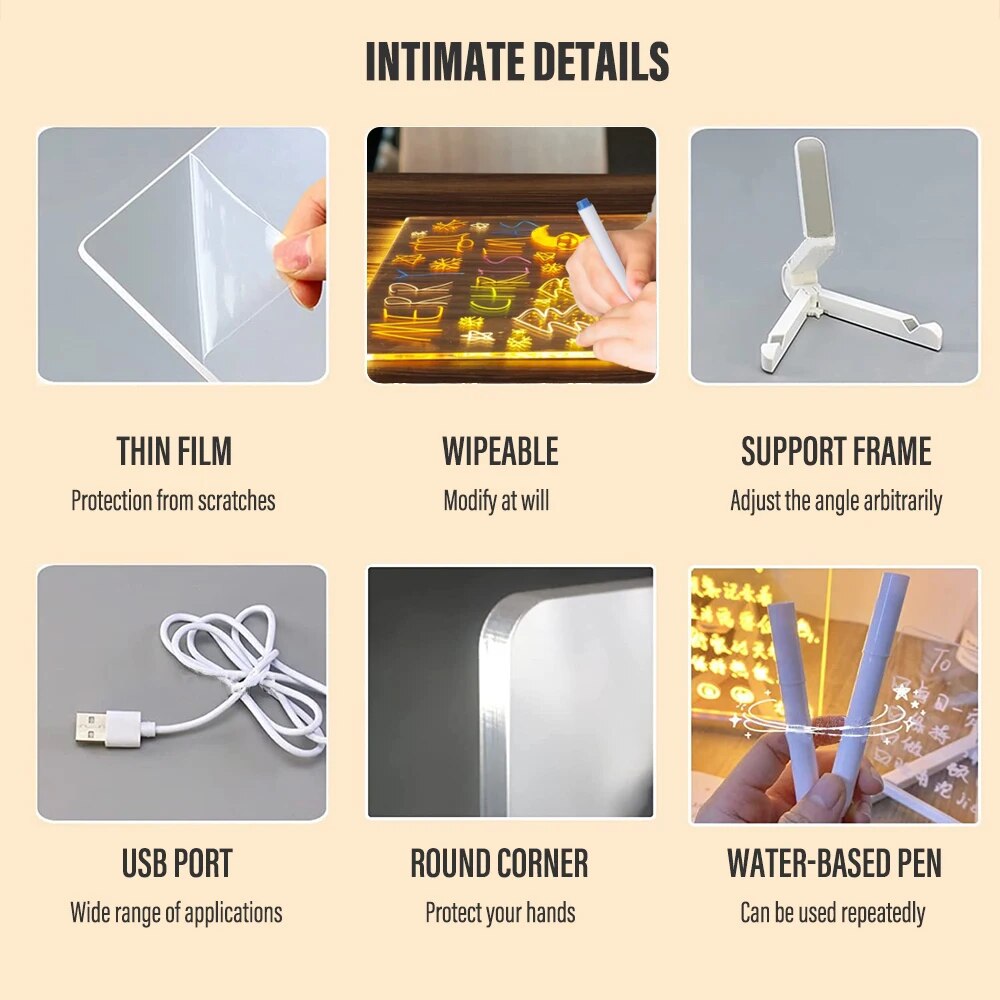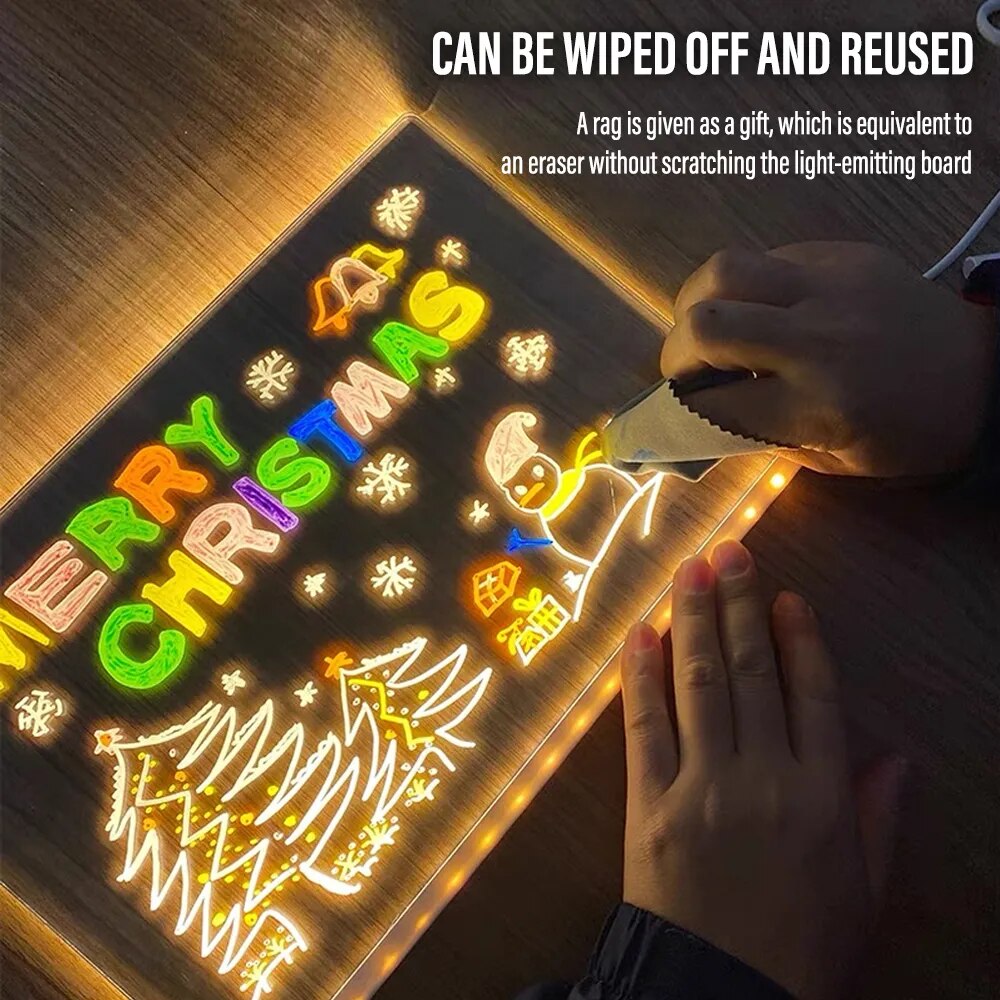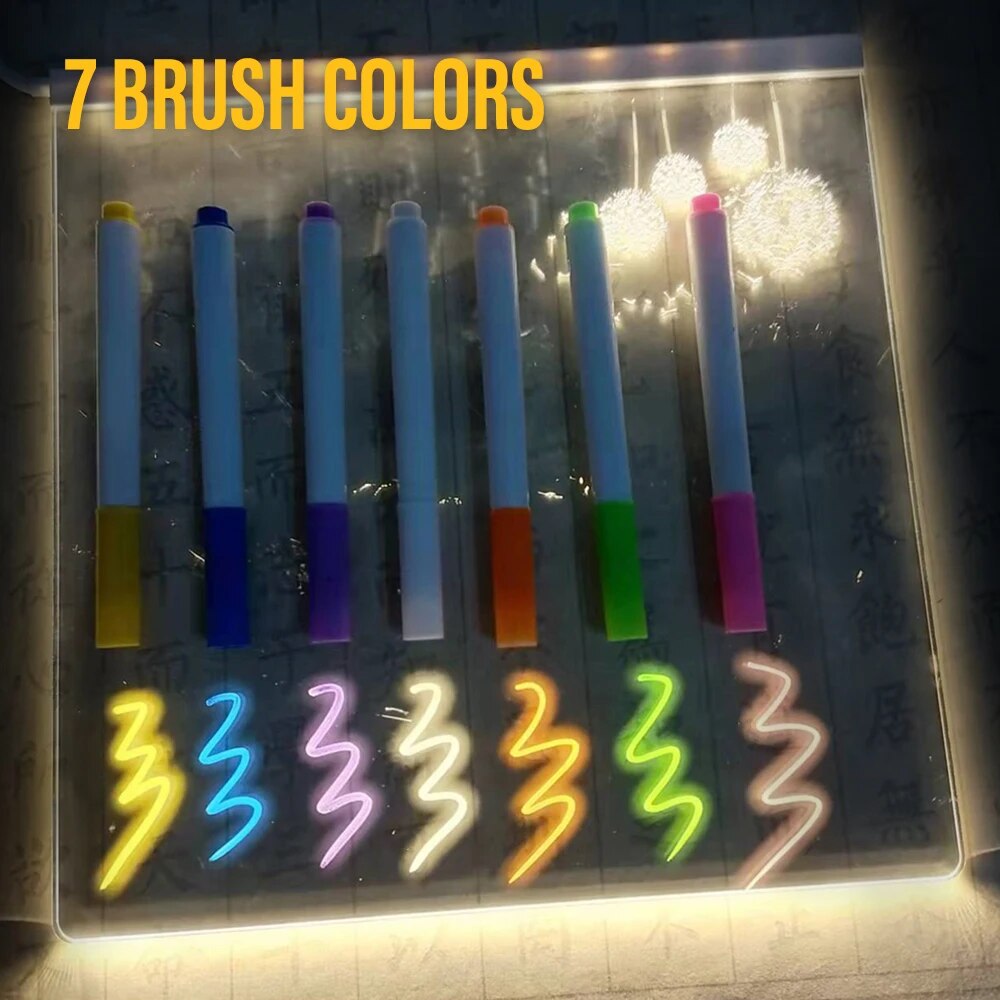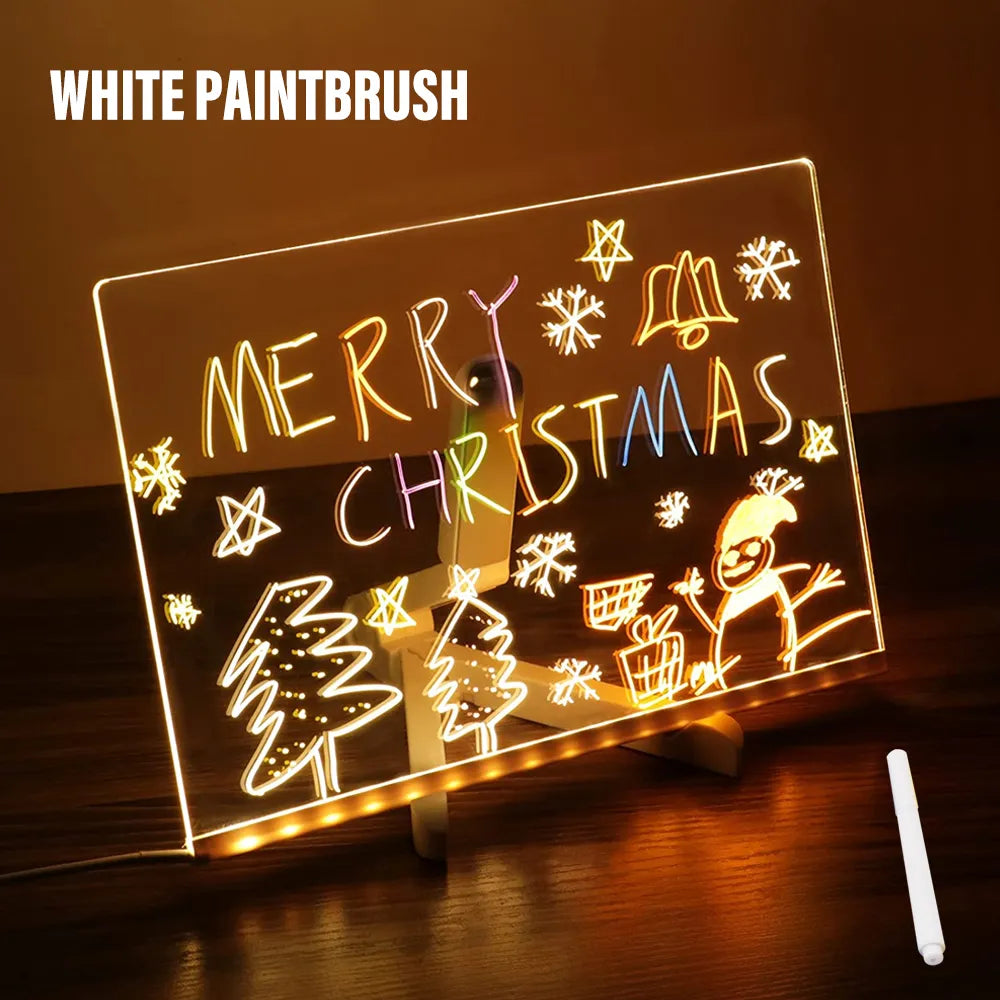 LED Luminous Drawing Message Board Lamp
Emitting Color:
7 color brushes
Introducing our LED Luminous Drawing Message Board – Your Creative Canvas!
🎨 Unleash Your Imagination: With our LED Luminous Drawing Message Board, you can bring your creativity to life in a mesmerizing display of light and artistry.
✨ Mesmerizing Illumination: Watch your messages and drawings come to life with the radiant glow of LED lights. It's a unique way to captivate attention and convey your message.
📝 Leave Memorable Messages: Whether you're leaving notes, reminders, or creating eye-catching signs, this message board will ensure your messages stand out, day or night.
🌟 Endless Possibilities: The only limit is your imagination! Perfect for classrooms, offices, homes, and businesses – anywhere you want to make a statement.
💡 Easy to Use: Our LED message board is user-friendly and comes with a variety of colored markers, so you can get started right away. Erase and redo as often as you like.
🌈 Colorful Fun: Select from multiple LED colors to complement your mood and surroundings. Create a magical atmosphere with ease.
🎁 A Unique Gift: Looking for a distinctive gift that's sure to impress? This LED message board is a fantastic choice for all ages and occasions.
Don't miss out on the chance to add a touch of brilliance to your life. Elevate your messages and art with our LED Luminous Drawing Message Board today!
Features and Uses
Creative Expression: This board enables you to creatively express yourself and solve the problem of conveying messages or art in a captivating way.

Message Clarity: It helps solve the problem of unclear communication by providing a platform to write and display messages with high visibility.

Organization: Use the board to solve the problem of staying organized by leaving notes and reminders in a prominent location.

Interactive Learning: In educational settings, it can help solve the problem of engaging students and making lessons more interactive and memorable.

Mood Enhancement: Change the LED colors to solve the problem of setting the desired atmosphere or mood in a room.

Reusable Communication: Erase and rewrite messages to address the issue of constantly changing information and updates.

Gift-Giving: Solve the problem of finding unique and impressive gifts for various occasions by gifting the LED Luminous Drawing Message Board.

Visual Appeal: Enhance the visual aesthetics of your space to solve the problem of dull or unattractive decor.

Creativity in Business: For businesses, this board can help solve the problem of attracting attention and conveying messages effectively to customers.

Reduce Paper Usage: Address environmental concerns by reducing paper usage for messages and reminders.
These features showcase how the LED Luminous Drawing Message Board can serve as a versatile solution for various problems related to communication, creativity, and aesthetics in different contexts.